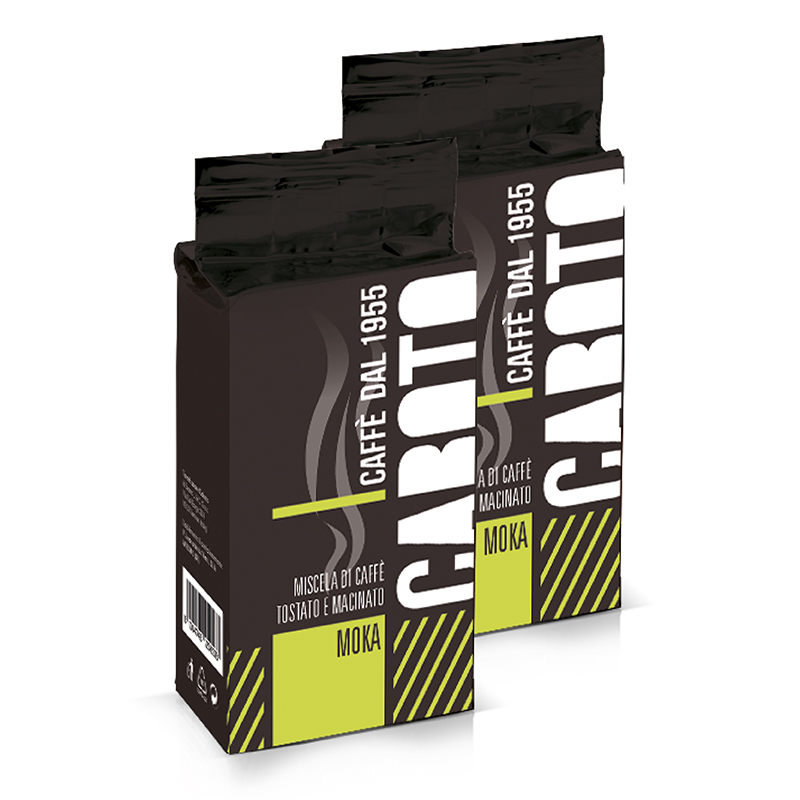 Ground coffee for moka
THE AROMA OF TRADITION
Are you of the opinion that the one and only coffee is the one you make with Moka?
Some believe it is the coffee "par excellence", while some other are bound to the tradition of the act itself. Maybe this is the very first thing that each Italian person learns to do in the kitchen, as you need only two ingredients: water and coffee, and the game is made. Yet, it happened to everyone to drink a coffee made with Moka too strong or too watered down, or even worse, with no aroma or taste.
The aroma that unleashes around the house, the unmistakable mumbling of the coffee coming up: preparing a cup of coffee with Moka turns out to be a simple gesture and ritual, which everyone is used to. However, in order to get a perfect coffee, you need to pay attention and use the right ground coffee for Moka. Not all blends are suitable: some are too fine, some other are large.
Moka Home is the ground coffee for Moka by Caboto, a blend studied to meet the needs of family life. It is composed by a mixture of coffee origins, which can guarantee a balance among tastes, the unmistakable aroma of Moka, the fragrance and the quality of a good Italian coffee. The ground coffee for Moka, with its low content of caffeine, is the ideal awakening of every morning, to drink alone or with a bit of milk; besides, it is characterized for its classic and calibrated taste, able to meet all mouthfeels.
Moka Home blend is packed in 250 gr bags of ground coffee, equipped with save-aroma valve, in order to preserve the freshness of the ground coffee.
ASK FOR INFORMATION ON: